GET IN FOR $100.
INCLUDES LIFETIME MEMBERSHIP PLUS 30 MINUTES OF DRIVE TIME.
Introducing the car that's there when you need it, ready to go wherever you want. No mandatory return trips. No time constraints. No hassles. It's an easier way to get around Vancouver. Parking, maintenance and gas are all included, so the only thing you pay for is the time you spend in the car. To us, that's just carsharing common sense. Promo Code: FALL2012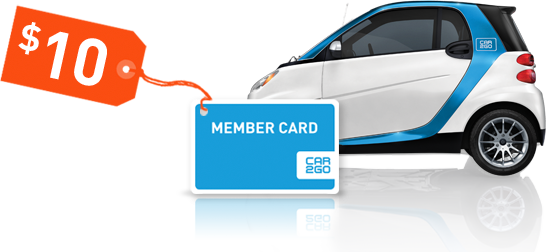 *$2 annual membership fee goes to Canuck Place Children's Hospice. Must be minimum 19 years old and/or have 3 years of driving experience. Your registration is only complete once car2go receives a copy of your ICBC driving record. Free minutes of driving time are valid for 60 days after credited to an account, unless otherwise noted.